Mayo 2018
| Lun | Mar | Miér | Jue | Vie | Sáb | Dom |
| --- | --- | --- | --- | --- | --- | --- |
| | 1 | 2 | 3 | 4 | 5 | 6 |
| 7 | 8 | 9 | 10 | 11 | 12 | 13 |
| 14 | 15 | 16 | 17 | 18 | 19 | 20 |
| 21 | 22 | 23 | 24 | 25 | 26 | 27 |
| 28 | 29 | 30 | 31 | | | |
Calendario
Página 4 de 4. •

1, 2, 3, 4

428
Il Vangelo secondo Matteo (The Gospel according to St. Matthew)
(Pier Paolo Pasolini, 1964)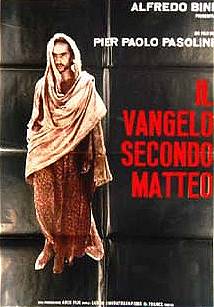 Released in 1964, The Gospel According to St. Matthew marks an important shift away from the gritty urban realism of Pasolini's earlier films towards the visionary imagery of his later work. A committed but far from conformist Marxist, Pasolini took a powerful and immediate approach, with no false piety or sentimentality. Employing a cast drawn largely from the peasantry of Southern Italy, where the film was shot, the action has the feel of a mystery play reenacted for the camera. Enrique Irazoqui's Christ is part folk hero, part political agitator, but always pursuing his destiny with unswerving conviction. The disciples make for vivid contrasts in facial expression, while Susanna Pasolini (mother of) is unforgettable as Mary, distraught at the Crucifixion. The recourse to handheld cameras and zoom sequences is well ahead of its time, while the almost jump-cut editing and diverse soundtrack--including Bach, Mozart and the Missa Luba--enhance the sense of action being experienced as it happens. A classic of post-war cinema which has lost none of its urgent humanity.
429
Deus e o Diabo na Terra do Sol (Black God, White Devil)
(Glauber Rocha, 1964)
Black God, White Devil is a 1964 Brazilian film directed and written by Glauber Rocha. Its original Portuguese title is Deus e o Diabo na Terra do Sol, which translates literally as "God and the Devil in the Land of Sun". Considered Rocha's masterpiece, the movie stars Othon Bastos, Maurício do Valle, Yoná Magalhães and Geraldo Del Rey. It belongs to the Cinema Novo movement, addressing the socio-political problems of 1960s Brazil.
The film starts in the 1940s, during another drought in the sertão, when ranch hand Manuel (Geraldo Del Rey) is fed up with his situation. His boss tries to cheat him of his earnings and Manuel kills him, fleeing with his wife, Rosa (Yoná Magalhães). Now an outlaw, Manuel joins up with a self-proclaimed saint who condones violence and preaches disturbing doctrines. It is now Rosa who turns to killing and the two are on the move once again. And so it goes, the two running from one allegiance to another, following the words of others as they attempt to find a place in their ruthless land. Blending mysticism, religion, and popular culture in this symbolic and realistic drama, Rocha insists that rather than follow the external and obscure dogmas of culture and religion, man must determine his path by his own voice.
430
Onibaba (The woman demon) (Kaneto Shindo, 1964)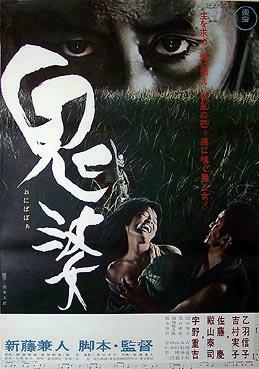 A curse hangs over Kaneto Shindo's primal Japanese classic like a looming storm cloud, but the supernatural has got nothing on the desperation and savagery of the human animal trying to survive the horrors of war. In 16th-century Japan, a hardened middle-aged woman and her young daughter-in-law have turned predator to survive, murdering the soldiers who wander into the sea of pampas grass surrounding their hut and selling their weapons for rice. When their war-deserter neighbor returns home and makes his moves on the young woman, their numb equilibrium is complicated by greed, jealousy, and lust. The consequences are terrible and not exactly surprising, but they are gripping. Shindo's unnerving close-ups, bobbing handheld camerawork, and soundtrack of pounding drums and howling flutes gives Onibaba a queasy intensity. Shooting in stark black and white, he makes even the waving of the grass look ominous as it all but swallows everyone who enters.
Página 4 de 4. •

1, 2, 3, 4

---
Permisos de este foro:
No puedes
responder a temas en este foro.