Mayo 2018
| Lun | Mar | Miér | Jue | Vie | Sáb | Dom |
| --- | --- | --- | --- | --- | --- | --- |
| | 1 | 2 | 3 | 4 | 5 | 6 |
| 7 | 8 | 9 | 10 | 11 | 12 | 13 |
| 14 | 15 | 16 | 17 | 18 | 19 | 20 |
| 21 | 22 | 23 | 24 | 25 | 26 | 27 |
| 28 | 29 | 30 | 31 | | | |
Calendario

Facts & Background
About
Gonzalo Higuain is an Argentine footballer who currently plays for Real Madrid C.F.
He joined Real Madrid in 2007 from River Plate, and he is considered to be a promising youngster and a great last ditch player.
He is the younger brother of Federico Higuaín, who plays for Argentinian side, Independiente.
Background
Gonzalo Higuaín was born in France while his father, professional Argentine footballer Jorge "El Pipa" Higuaín, was playing for Brest, at that time in the French Ligue 1.
He left the country when he was just 10 months old and and did not return until the 1998 FIFA World Cup.
He obtains a French passport even though he doesn't speak French. His father was naturalized French.
In January 2007, he successfully applied for the Argentine nationality.
Higuain has a nickname - "Pipita" dubbed after his father, who had the nickname "Pipa".
Club Football River Plate
Higuain was a prominent star in the River Plate squad. His double strike in the Superclásico local derby against Boca Juniors impressed River Plate's manager Daniel Passarella who then declared that "Pipita" had an 'enormous future and was 'destined for superstardom'.
As a result of his impressive performances with River Plate, big clubs including AC Milan, Lazio, Man UTD, Chelsea and Real Madrid expressed their interest in the player.
However, he opted for the Spanish giants, Real Madrid and he moved with another Argentine youngster, Fernando Gago who played for arch rivals, Boca Juniors.
Real Madrid 2006-07
Real Madrid signed Higuain for €13 million in 2007 while the club was in a turmoil not having won any title for four years. He made his league debut against Real Zaragoza at home during which he assisted the only goal of the match.
Higuaín scored his first goal in the White shirt agains local rivals Atlético Madrid on February 24, 2007.
His first home goal for Real Madrid came in the dying minutes of Real's crucial encounter with Espanyol on May 12, 2007. With the match tied at 3-3, Higuaín won the ball with a sliding tackle before exchanging a one-two with Jose Antonio Reyes and slotting the ball into the net. It was this goal which enabled Real Madrid to overtake rivals Barcelona into first place and propelled them to their 30th League Title.
2007–08
On May 4, 2008, with Real Madrid down 1-0 against Osasuna, and needing just 3 points from their final fours games, Higuaín came on for Saviola in the 67th minute and from a free kick, assisted Arjen Robben's equalizer in the 88th minute. Higuaín then struck the winning goal two minutes later to clinch Real Madrid's 31st La Liga championship and has now become a new idol for Real Madrid fans.
Despite being Real Madrid's title hero, Higuain found himself on the bench for Barcelona's visit to the Bernabeu four days later. However, as he had in previous games, Higuain came on to devastating effect, scoring with his first touch within a minute and helped his team to a crushing 4-1 victory.
2008–09
On August 24, 2008 he became Real Madrid's cup hero, scoring in the 89th minute, giving Real Madrid a victory over Valencia and it's eighth Supercopa de España. After the close of the summer transfer window, Real Madrid revealed that they have turned down a €25 million offer for Higuaín from Juventus. He has cemented a starting place in the team's starting eleven after impressing in the preseason, Champions League, and La Liga.
International Football
In 2006 Gonzalo refused invitations to join the ranks at both the Argentine Under 20s and French national teams. He clarified that he needed more time to think about his international football.
Later, he decided to join Argentina and eventually played a friendly against Guatemala in which he scored two goals.
It was not officially recognized by FIFA as an "A" international match, and will not count towards his caps and goals in international play.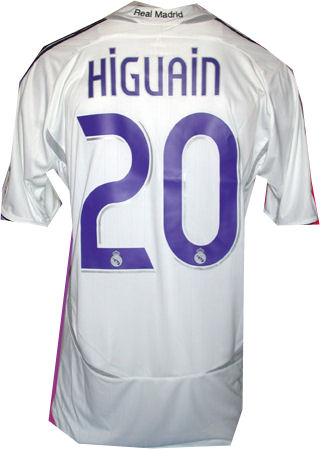 Cantidad de envíos

: 32


Edad

: 26


Empleo /Ocio

: estudiar


Fecha de inscripción :

16/10/2008




---
Permisos de este foro:
No puedes
responder a temas en este foro.